100 Years of Bumiputera, an extraordinary credibility and commitment.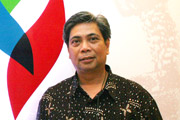 Totok Azhariyanto - Director of PT Bhakti Energi Persada (BEP)
Mutual editors had the opportunity to interview a professional in the field of mining, the Totok Azharyanto. Met on the sidelines at busy a while ago, led PT.Bhakti Persada Energy (BEP) describes the dynamics of the mining world, his obsession, the development of insurance and why he chose as his life insurance Bumiputera.
What is the story the father's early career?
I finished college in 1987, then after that go and work in Utah (people may get to know Arutmin) for 7 years. While in this Arutmin 2 times I had to move tenure, when purchased by the PSP and then bought again by Bumi Resources. After 7 years there, I go out and get into Pama (a subsidiary of United Tractors) for 2 years, then I go to Mc Manz Australia in 1996 and 2001. In 2001 I returned to Indonesia and joined together Berau Berau Coal in April 2007 to act as the board of directors.
The board of directors makes me think there must be a management change later once I no longer served and must have a successor as if no one can continue the success this company it will be bad for the company. Finally I can get my replacement. He's 38 years difference at 5 years of my 43-year-old. I think, "If he was waiting for my retirement is at age 55 years and the company is growing, compassion dianya later to continue fighting the company's growth." Just info employees registered in our company have amounted to 4000 people including contractors. When we went out and the baton to a new diserahakan management. The results of our production rose steadily until now the fourth largest in Indonesia. It's Good company that is growing ...
I've also been told Look, "When in the mines, people complain about our mining operations and stop it. Let us think of when it is in their position. People who live in the forest interior and make a living at our location where reasonable unloading them angry. If we so they also do not we get angry we unpacked the house? " Let's position ourselves to see they are part of us is also not as someone else. When we manage the wealth of the country what we have done for the people and we do to the area. When we come to the area and does not change anything, there's no point us come there. We must give our best for the community and region as well, a sort of symbiotic mutualism.
Pack is very interesting work on the principle of the father in the mining world. If you can tell me since when the father in the Bhakti Energy Persada?
In Bhakti Energy Persada in 2008. In 2007 I quit continues to be an independent consultant for banks in Indonesia. Because Indonesia has not been accustomed to mining investment banks and more banks from outside the play here. During the year became an independent consultant, I joined the Bhakti Energy Persada in 2008, continues to start running until the end of 2010 setting up mining in East Kutai.
That was about the father's early career up to now, while the first time since the bumiputera know when to pack?
As I recall 15 years ago after my marriage in 1996. At that time I think, from the beginning I worked for a foreign company whose name has been introduced insurance to their workers because it has become the standard for workers. And this time I also work outside the home more than at home.
Time for traveling more than the time at home. And I prepare for all possibilities are under-estimated if anything happens. For that reason I became acquainted with the natives and the road almost 16 years now. Insurance that it will be a need for us because we will never know what kind of future.
The problem is how insurance companies compete to how to package the products become more attractive. And I see Bumiputera solid until now. If I can love the input is kept and how to package their products have advantages in terms of communication. We can see that there is a foreign insurance in Indonesia has the advantage in terms of communication, a simple example when I go to foreign insurance AXA example, anytime I can see my insurance products and value every day via telephone or via the internet.
Create a prospective customer who visits rather than the insurance value of the stretcher, but how the insurance company is showing to them. These tables of the appearance of insurance companies, how we guard your investment and insurance. Well I think the future of the world customers will lead to it and it will be a challenge, and it will not be easy to have a system such as changing all the system as a whole and be expensive.
I too have experienced such management changes, when I want to make such management in Berau Coal may take up to three years our company can create such a system, so anytime we can not know well what our company does. Can imagine when I get revenuenya 80 million dollars a year, when I came out revenuenya to 700 million dollars per year. This means that your teeth, we take a 80 million dollar revenue annually, if divided by 300 means that in one day revenuenya 200 thousand dollaran. If the wrong management and decision-making late in the day the company will lose about 200 thousand, and could imagine if their income reached 700 million dollars per year of material losses that we experience how much. That's what prompted me to have such a management system, so there are operational systems that are not "healthy" can be directly visible. We have always emphasized this, mine is different attitude with the engine or electricity. Electrical short-circuit die so there is a problem can be directly known, then dibenerin Flash plug fuse again as before, the process is easy and fast. If the mine goes wrong invisible, only visible after 30-40 days of work and expensive repair costs, therefore it needs to plug the fault indicator to prevent undesirable events like that.
Cooperation with private insurance, would lead to there customer, the customer will see the performance of each company. Bumiputera good in my opinion, can last for a hundred years is not an easy thing to get through so much history. It shows credibility and tremendous commitment because if there are no two things are from the first fall. Yah just Bumiputera not be complacent because other companies began to innovate with new ideas. Learn from the experience of the previous company, for example in 70-80s in Sumatra there is a rule PO Bus Sumatra called "Cak Tigers" have the Jambi, PO The bus went bankrupt in the late 80s because of the entry of Japanese buses. Bus companies of Japan issued a new innovation, while the buses are operating in Indonesia are still using gasoline, bus from Japan comes to using diesel fuel is much more efficient. So no wonder the company is doomed to lose competitiveness bus. She has not realized because the opponent has to play more efficiently.
For me it always says "Working Hard to, but working smart is also necessary. One more added value, advertising must also be held as a good advertising is useful for everyone to see our company. Small example when people are online, searching the company and was not There, people will think, "ya old school company", but if there is appropriate we will be searching a plus for the company, "well this company there loh", although not necessarily of good quality.
Maintaining a company like this is not easy, as well it should have been committed, have a value, and culture. Important for companies to have value because when the company does not have the harder it is to survive. I also believe if there is a tersenggol valuenya slightly, the employee must have kicked in because it involves trust for peerusahaan service like this. I also learned a lot from how to keep valuenya bumiputera, which menginspired for him always the same, always maintained his vision of the mission continues. Bumiputera in my service is good, pure Indonesia, and hoping to survive.
Own father had a number of insurance if allowed to know?
If from the company itself provides two insurance, health and accidents we can. If an individual other than my existing Bumiputera Commerce AXA exist because there bankingnya service. The rest most of the standards wrote like car insurance, life insurance, but if for Bumiputera well.
How do you feel you with the products we offer when you first join the Bumiputera and the father turned out to be cash back?
I dare thinkers also Bumiputera 'give cash back like this, this event is a point for a good marketing people, just the problem for me is Bumiputera advertisingnya less, if I compare the name AXA advertisingnya unbelievable. I think when advertisingnya not good then no one knows. Examples well as cash back program, I just know when Pak Marimin said there was this program.
Therefore, in order to always succeed and survive advertisingnya activities should be addressed. Public opinion must be built and this is the land of public communication Bumiputera company, when the company would be great, he would open or not. All mean that the fight in the marketplace is not it about how to make the public opinion, ngebranding not you just wrote with an opinion.
That is the challenge Bumiputera in the future. But that is a good company I akuin it well, a hundred years is still standing is' not easy. I was holding her 12 years as a director in the company ever 'feel is a rich company' spirit is not there, then when compared to natives of nearly 100 years, I was amazed this year and 100 were healthy not sick. I hope that despite not being why-why do not necessarily sit on my hands, it could still issue a new innovation for the foreign company as his opponent "gendheng-gendheng". As my advice was how to have a good communication system to the customer and others. Because if other people see our company and the customer, they can opine "They have a good employe", He's got a good employee who manages my money, "I trust with them". Openness is a positive impact for us.
I believe the people of Indonesia in the future will lead to the insurance world, everyone would make it a requirement. If the first people think insurance is a luxury. So the future everyone will need it. In the past when we have an advantage in terms of material well we insured that be an option when it is health insurance and education. Well developed from previous experience, people can live in Indonesia when he was healthy and intelligent. The second thing is exactly what will drive the insurance industry will be required. *** Rizky

Back to Top